More than a club. Barcelona are unique in the world of sport. Their policy of being a multi-sports club and aspiring to be the best with each of their professional teams (men's and women's football, basketball, handball, futsal and roller hockey) has led them to more European cups than anyone else.
After the futsal team won the Champions League this weekend, beating Sporting Clube de Portugal 4-0 in Riga, Barça have now lifted a record-breaking 44 European cups across the club. There's no one on the Old Continent that even comes close.
The men's team have won five Champions Leagues in football and the women have won one -- with another final to come this month -- while the basketball team have won two, the handball team 10 and the roller hockey team 22, in addition to the four now won by the futsal team.
As well as the women's Champions League final for the women, the basketball team have a fifth game upcoming against Bayern Munich to qualify for this season's Euroleague final four, while the handball team have a European quarterfinal vs. SG Flensburg-Handewitt on May 11.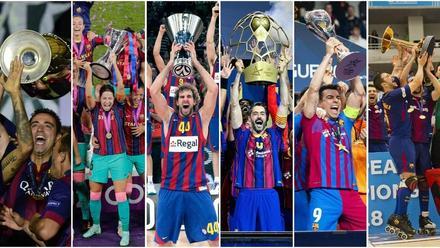 Real Madrid have only two teams that have won European titles but they lead the way in both. Their football team has won 13 Champions Leagues -- and could win it again this season -- and the basketball side have won 10 Euroleagues.
Here are the overall rankings:
FC Barcelona: 44
Men's football: 5
Women's football: 1* (Another final vs. Lyon on May 21)
Basketball: 2
Handball: 10
Futsal: 4
Roller hockey: 22
Real Madrid: 23
Men's football: 13
Basketball: 10
CSKA Moscú: 8
Reus Deportiu: 8
AC Milan: 7
Olympique de Lyon: 7
Women's football: 7* (Another final vs. Barça on May 21)
Bayern Munich: 6
Liverpool: 6
Maccabi Tel Aviv: 6
Panathinaikos: 6
HC Liceo: 6
Igualada HC: 6
Benfica: 5
Men's football: 2
Fútsal: 1
Roller hockey: 2
Sporting Portugal: 5
Fútsal: 2
Roller hockey: 3
Pallacanestro Varese: 5
Inter Movistar: 5
VfL Gummersbach: 5
Porto: 4
Men's football: 2
Roller hockey: 2
Ajax de Ámsterdam: 4
FFC Frankfurt: 4
THW Kiel: 4
اخلاء مسئولية! : هذا المحتوى لم يتم انشائة او استضافته بواسطة موقع اخبار الكورة و اي مسؤلية قانونية تقع على عاتق الموقع مصدر الخبر : sport.es [1] , يتم جمع الاخبار عن طريق خدمة ال RSS المتاحة مجانا للجمهور من المصدر : sport.es [1] مع الحفظ على حقوق الملكية الخاصة بمصدر الخبر.