The Catalan club's spending limit has risen by almost €800m
Barcelona's spending limit has risen from -€144 million to €656m. LaLiga presented on Friday the spending limits for teams in Spain's top two divisions for the new season. It represented a historic recovery for Barça.
After a transfer window marked by palancas at Camp Nou (the sale of assets), the club has managed to sufficiently solve a rather tricky situation.
In the past winter window, the salary limit was -€144 million, now it is €656 million and they have escaped the 1/3 or 1/4 rule in order to sign and register players.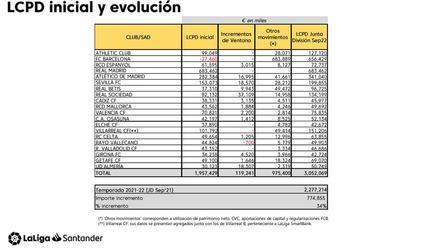 In addition to cleaning up the club's finances, the Catalans have reinforced their squad with high-level signings such as Lewandowski, Koundé, Raphinha, Christensen, Kessié, Bellerín and Marcos Alonso.
Real Madrid, for their part, continue to be the LaLiga team with the highest salary limit (683.4 million euros) after a summer in which they only signed Tchouameni (€80M) and Rüdiger (free).
Notable limits:
Madrid 683m
Barcelona 656m
Atletico 341m
Sevilla 199m
Villarreal 151m
Real Sociedad 134m
Athletic 127m
Betis 96m
اخلاء مسئولية! : هذا المحتوى لم يتم انشائة او استضافته بواسطة موقع اخبار الكورة و اي مسؤلية قانونية تقع على عاتق الموقع مصدر الخبر : sport.es [1] , يتم جمع الاخبار عن طريق خدمة ال RSS المتاحة مجانا للجمهور من المصدر : sport.es [1] مع الحفظ على حقوق الملكية الخاصة بمصدر الخبر.