Movistar have shown some of the chats the official had during the game
The referee Antonio Mateu Lahoz was one of the protagonists of the Barcelona-Espanyol on Saturday, the last game of the year in LaLiga and the last for both teams in 2022.
In a game that had seemed calm for a while, the referee ended up losing control, handing out a total of 15 yellow cards and two red cards, in addition to a third that he ended up overturning. He ended up being the main name in the Catalan derby, even beyond the Robert Lewandowksi's on-hold suspension.
Now, the Movistar show 'El Día Despues' has revealed images from the camera that followed him during the game and it has been possible to find out the conversations he had throughout the course of the meeting.
In one of the first plays of the game, Mateu Lahoz already called Ansu Fati at a corner kick to tell him: "Ansu, come, come, you, come here. You're making me angry now. No, listen to me, shut up. You wait. Look at me, pay attention to me. Even if [the opponent] is grabbing you, don't hit with your elbows, okay?"
A few minutes later, he would book Ansu for the same reason in an action with Óscar Gil.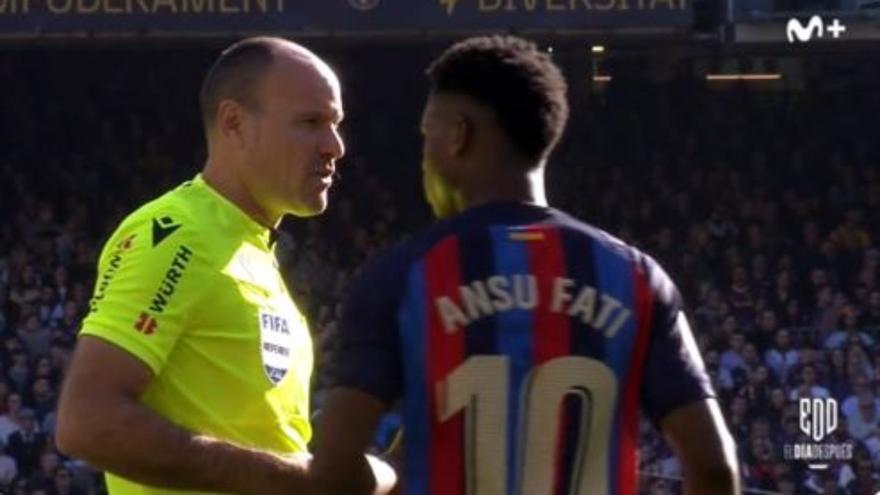 Later, and as a result of that action, Lahoz approached Xavi to star in one of the gruesome images of the match: The hug with Xavi after going to warn him about his protests.
The television images also show interactions with Barça players such as Gavi, Raphinha and Ferran Torres.
"I overruled it," was his brief phrase when it came to withdrawing Cabrera's red card after seeing the action again on the VAR.
To top it off, after blowing the final whistle, the Espanyol goalkeeper, Álvaro Fernández, approached the referee to say: "Mateu, I have behaved well, haven't I?"
اخلاء مسئولية! : هذا المحتوى لم يتم انشائة او استضافته بواسطة موقع اخبار الكورة و اي مسؤلية قانونية تقع على عاتق الموقع مصدر الخبر : sport.es [1] , يتم جمع الاخبار عن طريق خدمة ال RSS المتاحة مجانا للجمهور من المصدر : sport.es [1] مع الحفظ على حقوق الملكية الخاصة بمصدر الخبر.