Barça need to register new contracts before turning their attention to signings this summer
Barcelona's director of football Mateu Alemany said this weekend that it was going to be a "very interesting" summer in terms of transfers.
As happened 12 months ago, Barça could break records for both incoming and outgoing operations in a short period of time, which could be very exciting. The plan drawn up by the sporting area is clear and will begin as soon as Barça officially know their new salary limit. 
That is what is being discussed now with LaLiga and there is the absolute conviction that it will be possible to sign as long as the objectives of reducing spending are met. The most likely scenario is that the Blaugrana will be able to incorporate players as and when they make money in a very changeable summer in which everything will be calculated operation by operation.
At the moment, the priority is departures, to save on wages and to bring in money from transfers. The players who need to leave are already aware of Barça's intentions, but Xavi will not speak to the players until the league title is won. Ansu Fati, Ferran Torres, Franck Kessie and Jordi Alba could be in that first sieve. 
In some cases, these are departures that would not happen if the club's finances were different, but drastic decisions will have to be made to sell at the highest possible price. And one of those sales should be before June 30. It is obvious that loan players, except for possibly Abde, will also be on the market.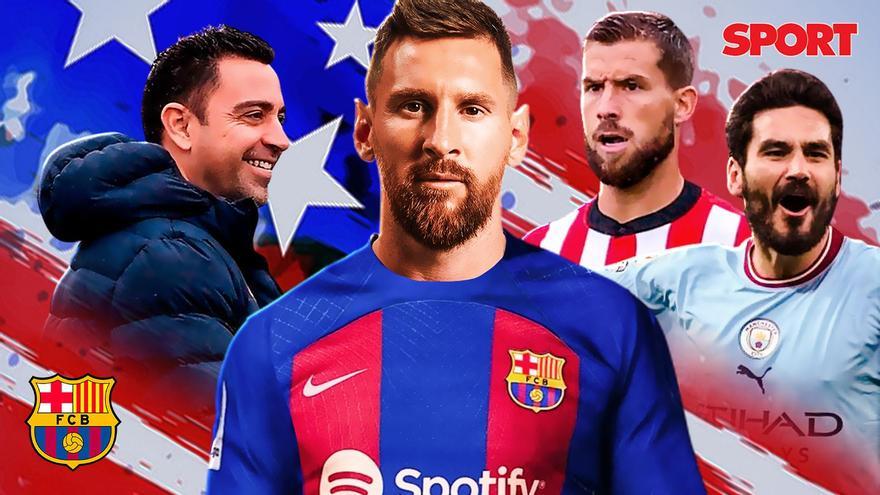 There may be exceptions such as Alba, with whom a substantial salary reduction could be negotiated. If he accepts, the full-back would be free to continue. In addition to the sales, the club is already talking to most of the players to reduce their salaries and there are some advanced renewals with the aim of spreading their salaries over more years. A huge amount of work.
If all goes well, the guidelines are clear. The first open window for registering players will clearly be for those players who have been renewed but have not been able to be registered (Gavi, Araujo etc). Those affected know this and have the club's word that they will not sign anyone until their situation is normalised. And in this first window, Leo Messi could also enter, a return that is only feasible if the exit operation and salary reductions work out well.
The objective of the sporting area is to have the case of the renewed players, Messi and two players who will come at zero cost, Iñigo Martínez and Gündogan, sorted out for the US tour. And, from there, the idea is to bring in a second striker, a winger, maybe another midfielder and a winger... provided that the second round of sales goes well. Yes, it looks like an interesting summer.
اخلاء مسئولية! : هذا المحتوى لم يتم انشائة او استضافته بواسطة موقع اخبار الكورة و اي مسؤلية قانونية تقع على عاتق الموقع مصدر الخبر : sport.es [1] , يتم جمع الاخبار عن طريق خدمة ال RSS المتاحة مجانا للجمهور من المصدر : sport.es [1] مع الحفظ على حقوق الملكية الخاصة بمصدر الخبر.